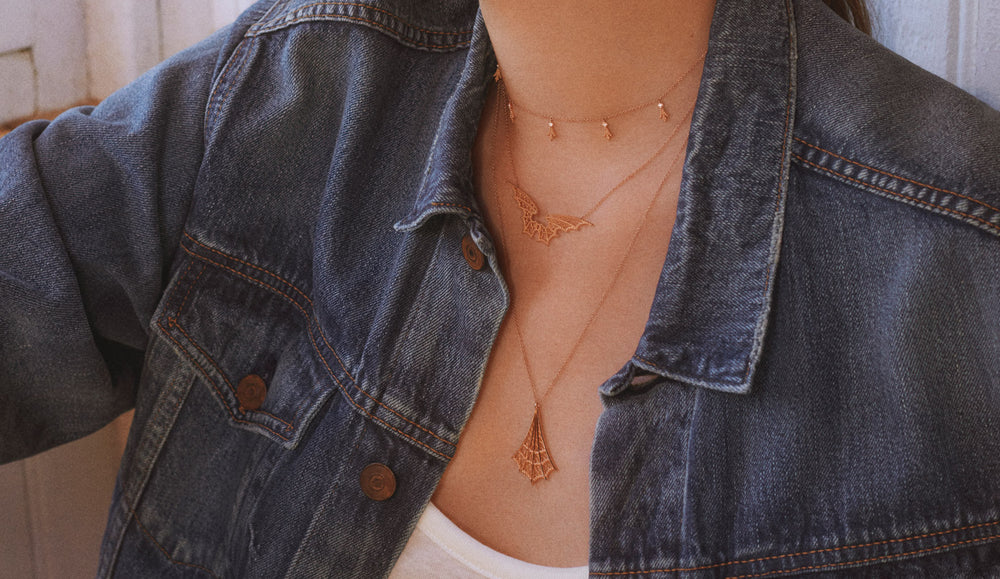 19th century for women
The fleur-de-lis, a harmonious and recurring motif in the archives is reinterpreted in the 19th century line on a series of pink gold pieces gathered around a theme named in homage to one of the emblematic clients of the house, the writer George Sand. Caroline Otero, known as the Belle Otéro, and Cléo de Merode, two artists and icons of 19th century Paris, also served as inspiration for Laure-Isabelle Mellerio to imagine the second part of this line dedicated to the 19th century and its "Art Nouveau" style. Finally, dragon wings, affixed majestically to rings, necklaces and bracelets, as well as the bat wing are also featured in this collection.
Size Guide
Print the ring finder at full scale, then place your ring on the circle that best fits the inside of the ring. If you prefer not to print, measure the internal diameter of your ring and use the chart below to determine your size.
| | | |
| --- | --- | --- |
| Diameter of Ring | Size | US size |
| 14.65mm | 46 | 3-3/4 |
| 14.97mm | 47 | 4 |
| 15.29mm | 48 | 4-1/2 |
| 15.61mm | 49 | 4-3/4 |
| 15.92mm | 50 | 5-1/4 |
| 16.24mm | 51 | 5-3/4 |
| 16.56mm | 52 | 6 |
| 16.88mm | 53 | 6-1/4 |
| 17.20mm | 54 | 6-3/4 |
| 17.52mm | 55 | 7-1/4 |
| 17.83mm | 56 | 7-1/2 |
| 18.15mm | 57 | 8 |